WHAT IS CONVERSATIONAL AI ALL ABOUT?
It's the best investment you'll make this year – and over the next five years – to increase efficiency, improve your KPIs and drive innovation in customer service experience.
In this whitepaper, you'll learn about what Conversational AI is, why it has become so relevant, and the new opportunities it opens up for your business. You'll see a roadmap for your implementation on how to get started and how to mature.
CONVERSATIONAL AUTOMATION IS THE FUTURE OF SELF-SERVICE.
As the number of agents grow, how do we ensure our agents follow best practices and stay on-brand?
During seasonal spikes, how do we temporarily grow our team while maintaining quality?
How do we provide 24/7 support while maintaining consistency and quality?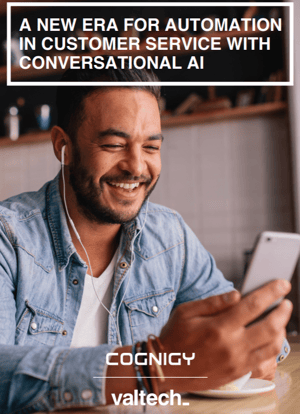 Today´s customers demand more than ever before. They are inquisitive and impatient. Because of digitization they have grown accustomed to having near infinite access to information, services and communication at any time and on any channel.
Cognigy and Valtech, both experts in their respective fields of Conversational AI automation and Digital Transformation, combine their strengths to provide you with fast, tailored and relevant solutions.