After the huge success of our first WSAI Insight AI For Earth, we are pleased to invite all World Summit AI community members to Humanising the climate problem: we're all part of the solution, an interview with Eric Holthaus, renowned climate scientist, meteorologist and author on Thursday 16 July 2020 16:00 - 17:00 PM BST / 11:00 AM - 12:00 PM EDT.
What does a radical vision of our future look like? How can we reverse the short- and long-term effects of climate change over the next three decades?
What the world could look like if we implemented radical solutions on the scale of the crises we face:
What could happen if we reduced carbon emissions by 50 percent in the next decade?

What could living in a city look like in 2030?

How could the world operate in 2040, if the proposed Green New Deal created a 100 percent net carbon-free economy in the United States?
An interview for anyone who feels overwhelmed by the current state of our environment and wants inspiration on how to influence change.
Join us for free for this ground breaking and sobering interview by T-minus30 climate ambassador Ruxandra Calin.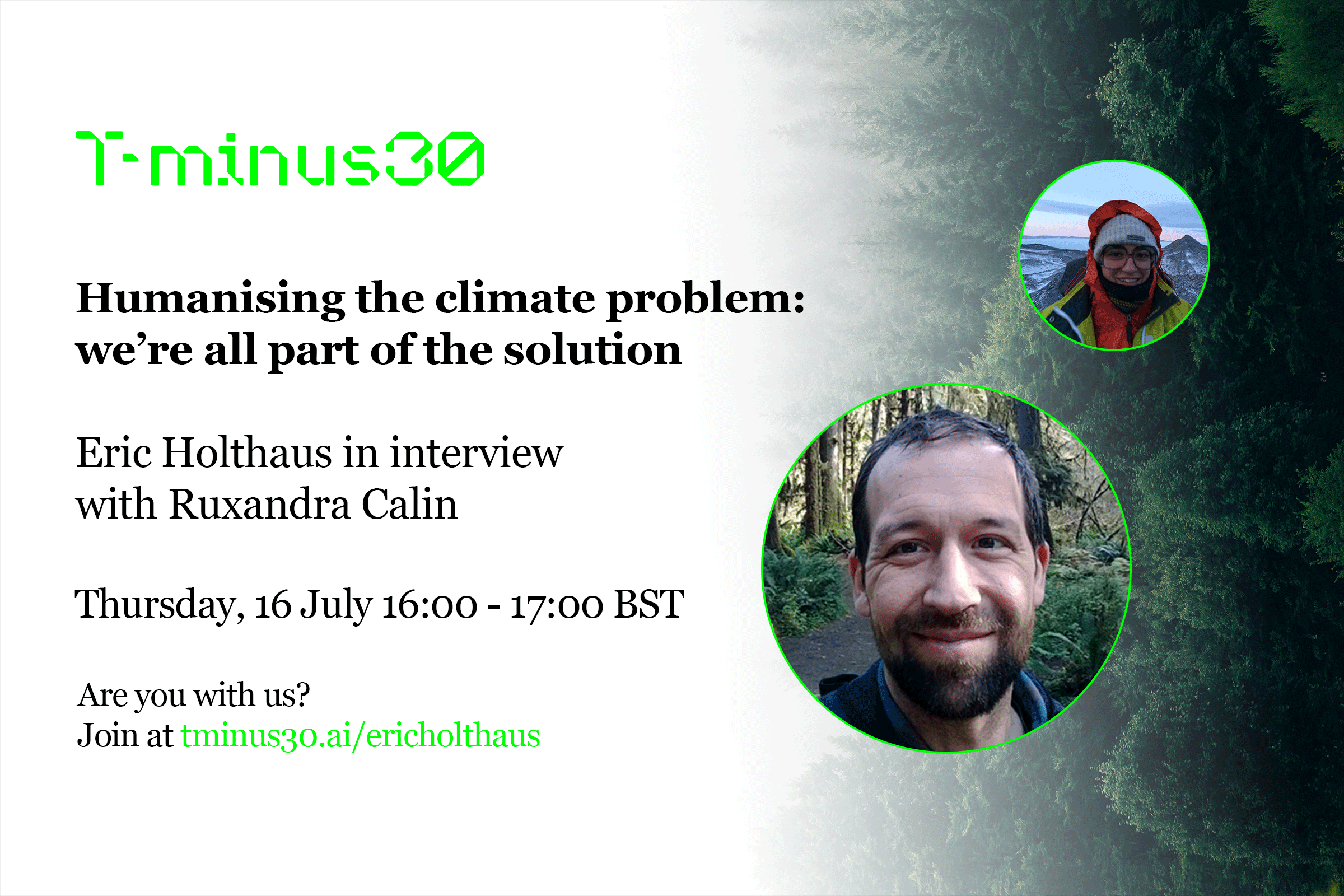 About Eric Holthaus:
Eric is a meteorologist who strives to foster humanity's connection to the atmosphere. He's a writer who seeks to change the narrative of the climate emergency away from dystopia toward courageous, imaginative possibility. Eric is an ecosocialist who believes that a better world is possible. The weather has helped make us who we are, and now it's time to remake our world into one centered on justice and life. "We're in this together."
Eric works for The Correspondent and is a former columnist for Grist, Slate and the Wall Street Journal, known for his mentions on global climate change.
In 2013, feeling that his extensive air travel was contributing to the climate problem, Eric has vowed to stop flying.
His first and brand new book is out now. The Future Earth is a hopeful book about climate change, trying to show readers how to reverse the short – and long-term effects of climate change over the next three decades.
GET THE BOOK (click book for link)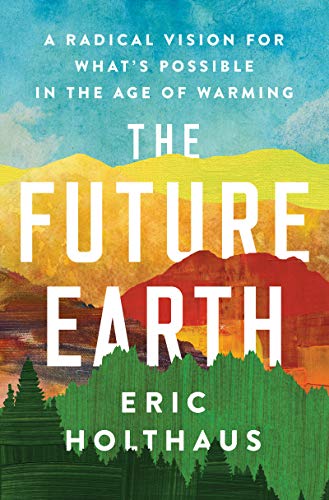 Got burning questions for T-Minus30? Find them on twitter at @T_Minus30. Use the hashtag #TMinus30.
Team WSAI (Sarah, Vidya, Kate, Claire, Sherrie, Stella, Celine, Fiona, Rux, Saima and Eve)
YOUR GLOBAL AI EVENTS CALENDAR

Here is your Global AI Events Calendar where you can meet your fellow 54,000 InspiredMinds community members of business leaders, heads of government, policy makers, startups, investors, academics and media.
INTELLIGENT HEALTH
9-10 September 2020
Online
INTELLIGENT HEALTH AI WEBINARS
WORLD SUMMIT AI WEBINARS
INSPIRED AI SERIES
Sept – Nov 2020
Online
inspired-minds.co.uk/inspired-ai
WORLD SUMMIT AI @ INSPIRED AI
14 October 2020
Online
WORLD AI WEEK
12-16 October 2020
Amsterdam, Netherlands
INTELLIGENT HEALTH UK
2-3 February 2021
London, UK
WORLD SUMMIT AI AMERICAS
20-21 April 2021
Montreal, Canada