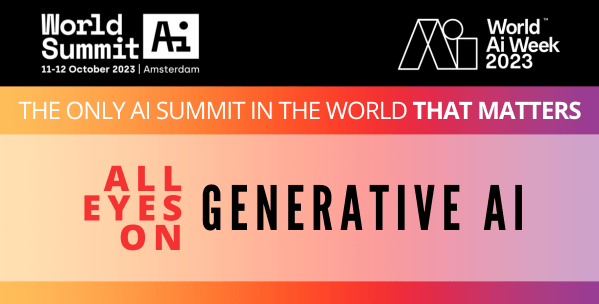 At World Summit AI, we go beyond mere speculation and delve into the tangible impact of Generative AI.
//track focus: Generative AI
The unprecedented global attention, investment and adoption of Generative AI is dominating every industry. In just 15 weeks, you'll have the opportunity to join us in-person and gain invaluable insights into the transformative potential, evolving business models, and the intricate balance between promise and risks. Immerse yourself in an exceptional track featuring exclusive innovation revelations, practical applications, and thought-provoking discussions led by leading technologists, experienced users, and discerning experts!
//join the global AI community to discuss all things Generative AI, and its successful adoption including:
>> Addressing Fear and Building Trust: Exploring the Concerns and Misconceptions of Generative AI
Join us as we venture into the dynamic realm of Generative AI, where we confront the world's biggest fears head on. We will spotlight concerns raised by industry thought leaders, where they will be met with thoughtful examination from the panel.
This session offers a platform for constructive dialogue, bridging the gap between public apprehensions and expert insights to shape the responsible adoption of AI technologies.
>> Navigating ChatGPT's privacy concerns: What you should know
Patricia Thaine, Co-Founder & CEO, Private AI

>> How AI can distort human beliefs
Celeste Kidd, Assistant Professor of Psychology, University of California, Berkeley

>> Unpacking the accessibility of tools like ChatGPT: Is the price of user-friendly generative AI worth the payoff?
Henry Ajder, Expert Advisor and Broadcaster Specialising in Generative AI, Deepfakes and Immersive Technologies

PANEL DISCUSSION

>> The cyber security arms race and how generative AI is changing the game
Jesus Luna Garcia, Cybersecurity Governance – Cloud and AI, Robert Bosch, Isabel Praça, Coordinator Professor, Institute of Engineering – Polytechnic of Porto (ISEP) & more!
//get the hottest ticket in AI at an earlybird price
Now is your chance to secure your Expo + Content Pass with full access to not only the Generative AI track, but the full two day Programme with 11 exhilarating tracks of new content across 6 World Summit AI Stages at an early bird price. Ticket prices increase in 2 weeks - this is your chance to save €400 on the hottest ticket in AI.
Global AI events calendar
World Summit AI
World Summit AI Americas
24-25 April 2024
Montréal, Canada
Share your content with the World Summit AI community
Got some interesting content you want to share with our community of over 220,000 AI Brains? You can send us anything from a published piece you have written online, white paper, article or interview. Submit it here