The future of digital health lies with women - innovators, doctors, frontline health workers, and leaders. However, only 12% of artificial intelligence researchers are women, and tech giants (including Google, IBM, Microsoft) employ less than 15% women in AI projects.
That's why Women in Global Health has partnered with the Novartis Foundation to host the
#BuildBackBetter Start-Up Digital Innovation & AI Challenge
, for women-led organizations to advance gender equity through digital and AI solutions for global health security and health systems.
On November 18th and 19th, we will have keynote speakers including Ann Aerts, the head of Novartis Foundation, speaking, along with the 6 challenge finalists presenting their innovations for a chance to win a prize worth $20,000 and make their solutions a reality.
DAY 1: Panel with our distinguished judges and finalist innovation pitches:
November 18th, 9:00-11:00 AM ET

DAY 2: Keynote speakers on digital health & AI and prize giving to the finalist:
November 19th, 9:00-10:00 AM ET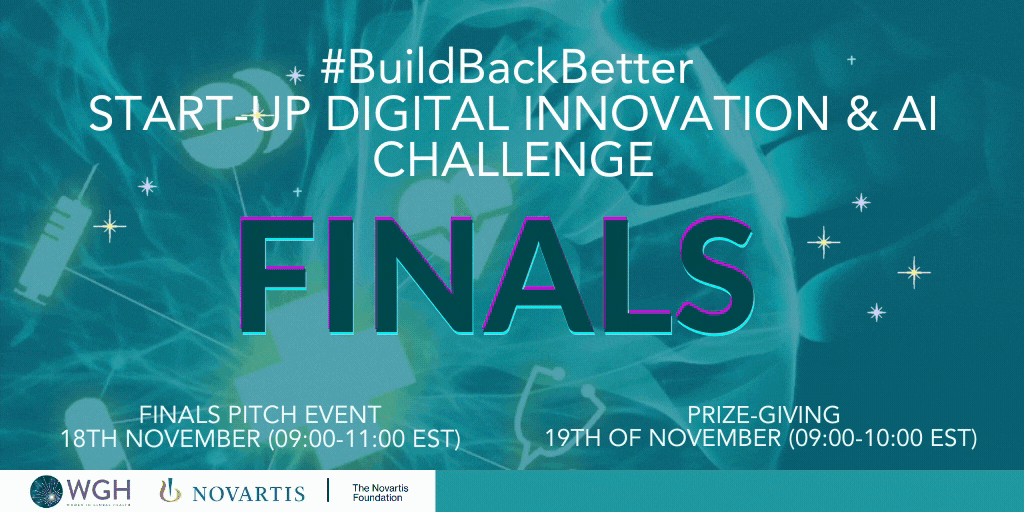 YOUR GLOBAL AI EVENTS CALENDAR
Here is your Global AI Events Calendar where you can meet your fellow 54,000 InspiredMinds community members of business leaders, heads of government, policy makers, startups, investors, academics and media.
WORLD SUMMIT/INSPIRED AI SERIES
Sept – Nov 2020
Online
inspired-minds.co.uk/inspired-ai
WORLD SUMMIT AI AMERICAS
20-21 April 2021
Montreal, Canada
WORLD SUMMIT AI WEBINARS
INTELLIGENT HEALTH AI WEBINARS
INTELLIGENT HEALTH UK
11-12 May 2021
London, UK
INTELLIGENT HEALTH
8-9 September 2021
Basel, Switzerland