Ahead of World Summit AI (11th-12th October 2023, Taets Art & Event Park, Amsterdam), we asked Choy Yong Cong, VP and Head of Europe Singapore Economic Development Board, his thoughts on the future of AI.
As an expert in the field, what critical challenges do you believe the AI community needs to address to ensure responsible & ethical AI deployment?
There is a need for a practical and informed approach to AI governance. Singapore believes in taking such an approach, and partnering with leading industry players such as Microsoft, Google and Adobe to use AI in a trustworthy manner. For example, Singapore's AI Verify is a tool launched in partnership with the industry, that helps developers check that their algorithms and datasets for training AI are in line with 11 internationally recognised principles. The AI Verify Foundation has also been launched to foster an open-source community to contribute to AI testing frameworks, code base, standards and best practices and create a neutral, international platform for open collaboration and idea-sharing on testing and governing AI. These initiatives help to ensure an effective approach to more responsible and ethical AI deployment, that safeguards users and protects societal interests.
How has AI impacted your specific field of expertise, and what transformative changes do you foresee in the near future?
In the field of government, Singapore believes in harnessing the power of AI to develop scalable, impactful AI solutions to make lives better. We see the potential for transforming societies through our national AI programmes across several key areas, including government, healthcare, smart estates, education, border security, logistics and finance. From delivering municipal services in a more responsive and timely manner to citizens, to helping detect and treat chronic diseases more quickly for an ageing population, AI holds boundless potential for transforming the way we learn, work and live.
This is why Singapore has created programmes to support these transformative changes. For example, the 100 Experiments programme supports companies in deploying AI by using a co-investment model, while AI Makerspace is a national platform launched in 2019 that helps SMEs and start-ups kick off their AI journey. Singapore's public research institute A*STAR also co-innovates with industry to create AI tech and solutions that can be used in sectors such as engineering, healthcare, finance and education. Furthermore, new employment passes have recently been launched to attract top AI talent to Singapore, and support businesses in accessing the global talent to expand in Asia. This includes the Overseas Networks & Expertise (ONE) Pass, which provides a 5-year personalised pass, and Tech@SG, which provides endorsement for up to 10 new employment passes to help companies set up their first tech teams in Singapore. We welcome the next generation of AI innovators to help build the future of innovation in Asia, from Singapore.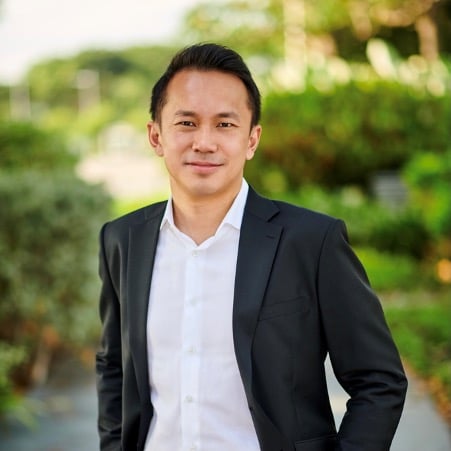 How do you envision AI shaping various industries, and what advice would you give to businesses seeking to integrate AI into their operations?
AI has the potential to make businesses more productive, innovative and impactful. To integrate AI into business operations, business leaders need to think about the right use cases and partners.
Foremost, AI should be applied to specific use cases to solve real problems. On this front, Singapore has partnered with companies and startups to develop localised use cases for APAC. For example, Salesforce built an ecosystem of localised software solutions for the APAC market from Singapore that enabled its revenue to grow 100x from 2005 to 2019, and established its first artificial intelligence (AI) centre outside of the Bay Area in Singapore in 2019 to support enterprise digitalisation in the region. In the area of healthcare diagnostics, an AI-powered software known as Blade, developed by Singapore's Tan Tock Seng Hospital (TTSH) and Taiwanese tech firm Asus, has halved the time needed to analyse blood for leukaemia and malaria diagnosis, enabling earlier clinical intervention for patients in the fast-growing APAC healthcare market.
Secondly, finding the right local partners helps executives to access the capabilities they need to employ AI effectively. For example, Google recently partnered with the Singapore government to implement AI tools through the Artificial Intelligence Government Cloud Cluster (AGCC) platform, which aims to accelerate AI adoption in Singapore's public sector, foster local research efforts in applied AI, and support the growth of the local AI startup ecosystem. These include exciting projects such as Pair, a large language model that serves as a secure writing assistant for civil servants, and the AI model marketplace, a collaboration to help Singapore-based developers access Google's AI solutions to develop home-grown AI technologies.
In Singapore, companies can also partner with government agencies such as the Digital Industry Singapore (DISG), an office that introduces tech companies to relevant partners, infrastructure providers, research institutions and talent to scale their operations globally. Recently, DISG and Google Cloud launched the AI Trailblazers with a consortium of partners, as a joint public-private initiative to accelerate the development and adoption of GenAI solutions by Singapore-based organisations to create real-world impact.
The initiative will advance Singapore's position as an open and trusted global AI hub, with the creation of two Generative AI Innovation Sandboxes that participants can tap on to build and test their own GenAI solutions in a controlled and dedicated cloud-based environment. 100 new GenAI use cases across government and industry will be experimented on over a 100-day period, in partnership with industry leaders such as American Express, Mastercard, PropertyGuru Group, Tokopedia and more.
In your opinion, what opportunities and challenges does AI present for job markets and workforce development worldwide?
AI is disrupting global job markets and workforce development, but these challenges can be addressed through talent development and upskilling. In Singapore, we have developed programmes in partnership with companies to develop and upskill the local talent pool. For example, the Monetary Authority of Singapore recently launched the Financial Sector Artificial Intelligence and Data Analytics (AIDA) Talent Development Programme to develop deeper AI capabilities and new AI training programmes in the financial sector.
Meanwhile, AI Singapore's AI Apprenticeship Programme develops Singaporean AI talents that can help address corporate problem statements related to AI. The programme trains candidates in AI engineering, followed by an on-the-job attachment on a real-world industry AI problem. This supportive talent ecosystem has helped Singapore to capture new opportunities through AI research teams established locally by global leaders such as SAP, Dyson, Infineon and Salesforce, while enabling the local workforce to develop impactful AI solutions.
Can you share an example of an AI application or project that has personally impressed you, and explain why it stands out?
Through Singapore's Smart Nation initiative, the Singapore Government has invested significantly in AI research and development, and created initiatives to build the local AI talent pool and apply AI in healthcare, educational and industrial environments. Supported by S$680 million in research and development funding for AI, these initiatives provide use cases for companies to scale impactful AI innovations in applied settings.
These real-life applications of AI have been supported by the availability of large amounts of data. In Singapore, the government has been actively working to collect and share data across different agencies and sectors, through initiatives such as data.gov.sg, a one-stop portal to governmental datasets from 70 public agencies. This has helped to create a rich source of data to train new models, while also ensuring that data is managed securely and in compliance with data protection regulations.
What measures do you believe should be taken to bridge the AI research gap between developed and developing nations to ensure equitable technological progress?
Singapore believes in active collaboration between nations, to enable the use of AI for the development of trustworthy, interoperable products. For example, Singapore leads work in Southeast Asia on AI governance guidelines through our membership in the Association of Southeast Asian Nations (ASEAN) and the Digital Forum of Small States (FOSS). We also partner bilaterally with countries such as the US on workstreams such as the National Institute of Standards and Technology's AI Risk Management Framework (AI RMF) mapping, and are active in multilateral platforms such as the Organisation for Economic Co-operation and Development (OECD) and Global Partnership on Artificial Intelligence, where we contribute our work with a view to enabling interoperability.
What 2 people do you admire most in the world of AI in terms of their work?
Dr Tan Kar Han is an inspiration for his ability to bridge academic research with real-world applications in AI. For the past two decades, he has led teams to invent new applications for AI with the likes of Mitsubishi Electric, Epson, HP and AI chip startup Novumind, and eventually returned to Singapore to build a new R&D division at local telco Singtel. One of his many projects was to bring Singapore's Marina Bay Cruise Centre into the future with a comprehensive suite of products, including using video analytics to monitor queueing times at key checkpoints as well as helping law enforcement identify unauthorised taxi drivers.
Professor Ho Teck Hua, Founding Executive Chairman of AI Singapore (AISG) has also played a key role in accelerating the development of Singapore's AI ecosystem. Under his leadership, AISG launched multiple signature projects, such as the use of AI to address national challenges in healthcare and education, 100Experiments projects to catalyse the adoption of cutting-edge AI solutions in industry, and the award-winning AI Apprenticeship Programme to build a pipeline of AI talent for Singapore.
What advice would you give to aspiring AI researchers and enthusiasts who want to make a positive impact in the field?
AI researchers and enthusiasts should think about how to advance better inclusivity, innovation and governance in their work.
Foremost, AI should be applied to develop greater inclusivity in society. Singapore is a small city with a big dream – to drive positive and meaningful changes that balance profit and purpose. For example, Microsoft is developing tools and products from Singapore, for people with disabilities to have greater independence in their lives. This is part of their 'AI for Good' initiative, which seeks to build a more inclusive society. Given the potential for AI to transform society for the better, Singapore believes in partnering with companies who can apply AI to be a force for good.
Second, we should continue to recognise how AI can drive innovation to improve the quality of life. For example, Singapore-based telemedicine startup Doctor Anywhere serves 2.5 million users across Southeast Asia, and has used AI for tools such as 'Skin Coach', an AI-powered skin analysis tool to provide convenient and personalised recommendations for skin care routines for customers in the region. AI can help to develop purpose-led innovations, whether to create a healthier world, automate mundane tasks or build a digital economy of opportunities.
Finally, the public and private sector should collaborate to develop an effective and informed approach to AI governance, and address issues such as bias, transparency and accountability in AI. This is why Singapore has developed platforms such as AI Verify, a toolkit to help developers validate that algorithms and datasets used to train AI are in line with principles such as security and accountability. In partnership with industry leaders such as Microsoft, Adobe and Google, Singapore is committed to developing a practical approach to AI governance that helps to safeguard users and protect societal interests.
If you could solve any global problem in the world with AI, what would it be and why?
It would be to apply AI to improve lives. Singapore's Smart Nation strategy aims to apply technology and big data to create tech-enabled solutions that improve lives, and make the city-state a great place to live, work and play. AI is a part of this strategy, and we have been applying AI to improve medical diagnoses, ride-hailing platforms, factory production and digital health in Singapore, among other use cases. We welcome AI innovators and startups to partner with Singapore, and develop, testbed and scale meaningful AI solutions for the region.
What inspired you to participate in this AI summit as a speaker, and what message do you hope to convey to the audience?
I'm excited to connect with the global ecosystem of startups, academics, corporates, and investors at the World Summit AI 2023, to both learn and share more about how AI can drive innovation for a better tomorrow. I hope to connect with innovative AI startups, scaleups and tech companies looking to build the next frontier of AI innovation in Southeast Asia.
In particular, I will be sharing more about the opportunities in Southeast Asia for AI innovation. A 2022 report by Google, Bain and Temasek projected that Southeast Asia is the road towards a $1 trillion gross merchandise value economy by 2030, despite global headwinds. The region added 60 million new digital consumers since the pandemic began. This represents a region where tech startups can find significant opportunities in areas such as e-commerce, digital financial services, and enterprise software, and apply existing AI innovations to real problem statements in the region's digitalisation journey. We welcome leaders in AI to join our masterclass, 'Building the future of AI in Asia', at the World Summit AI on 12 September, 11.00am – 12.00pm, and learn more about how Singapore's innovation, talent and investor ecosystem has supported innovation in artificial intelligence for Asia.
Global AI events calendar
World Summit AI
World Summit AI Americas
24-25 April 2024
Montréal, Canada
Share your content with the World Summit AI community
Got some interesting content you want to share with our community of over 220,000 AI Brains? You can send us anything from a published piece you have written online, white paper, article or interview. Submit it here