Ahead of World Summit AI (11th-12th October 2023, Taets Art & Event Park, Amsterdam), we asked Dr. Martin Schaffer, Global Head of Emerging Technologies at SGS, his thoughts on the future of AI.
If you could solve any global problem in the world with AI, what would it be and why?
Key obvious issues to focus on are the root causes of climate change, along with poverty, hunger, healthcare, and energy challenges. One key element there is to democratize education, ensuring better tailored education across the world's population.
What do you think are the 3 most important things for businesses in relation to AI at the moment?
Ensuring responsible AI use, which highlights the importance of ethical practices and responsible implementation of AI technologies.
Addressing talent shortages through AI applications, using Generative AI for training and recruitment, and optimizing existing resources (humans to focus on the complex "interesting" tasks while AI to address the "boring" repetitive things) to reduce the need for additional recruitment.
Having a clear AI strategy to improve current operations and discover new revenue opportunities through systematic AI utilization. Thereby, being fully clear which role to take in the AI ecosystem/value chain.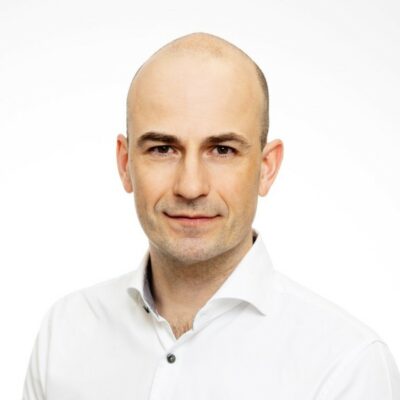 What do you think are the 3 most important things for humanity in relation to AI at the moment?
Ensure AI enhances humans while maintaining human control.
Utilize AI to cure serious illnesses like cancer and AIDS.
Employ AI to address environmental challenges and heal the planet.
How do you think AI will make its biggest mark in the next 5/10/20 years?
In the next 5/10/20 years, I believe AI will lead to exponential acceleration of innovations and problem-solving across several industries. This advancement could potentially enable major solutions to healthcare and environmental challenges, benefiting humanity significantly.
What advice would you give to executives as they determine how best to employ AI across their business?
Executives should undertake a systematic assessment of AI's potential impact on their organization, carefully examining opportunities for improvements and growth. Concurrently, they should prioritize the establishment of a robust internal governance framework to ensure the ethical and responsible use of AI technologies throughout the business. By adopting this approach, executives can harness AI's transformation potential while safeguarding against potential risks and maximizing the benefits AI can bring to their organization.
What's driving today's progress in AI?
The rise of the foundation models in combination of increase of computing power and the amount of data available to train these models. Moreover, exposing the whole world to the power of AI (through e.g. ChatGPT) led to a lot of inspiration and new use cases which AI expert would never have come up with alone.
What will take AI capabilities to the next level?
I believe AI itself (in particular Generative AI/Foundation Models) will play a crucial role in bringing AI capabilities to the next level (towards General AI). Moreover, the rising computing power and the continuation of exposing people in simple form to the potential of AI leading to new use cases which will give feedback to developers raising the capabilities.
What 2 people to do you admire most in the world of AI in terms of their work?
Elon Musk and Sam Altman (especially in terms of their visionary mindset towards AI) as their impact in AI is undeniable. We need more people with their vision in different areas of AI, especially in regulation to ensure responsible use of AI.
Why did you choose to present at the WSAI Series this year?
Emerging Technology regulations (e.g. EU AI Act, EU Cyberresilience Act) are (slowly) catching up. We are the world's leading Testing, Inspection and Certification (TIC) company trusted for 140 years for our competence, independence, and impartiality. The TIC industry is the extended arm of authorities whenever independent and impartial third-party conformity assessments is required (e.g. when higher risk is involved). We would like to create awareness about what the role of the TIC industry is regarding such new regulations and what challenges we are facing compared to traditional conformity assessments.
What are your personal goals from the summit?
Learn about newest developments and innovations, connect with people, create awareness around regulations and the role of the TIC industry.
What are you most excited about taking part in the WSAI Series?
About Martin
Dr. Martin Schaffer is Global Head of Emerging Technologies at SGS, the world's leading inspection, verification, testing and certification company. Together with his team, he explores emerging technology trends, such as AI, Cybersecurity, Distributed Ledger, Extended Reality, Quantum Computing, Web3, and Metaverse, and assesses their impact on SGS businesses by identifying both threats and opportunities. Martin also pioneered the Cybersecurity Services for SGS, establishing several cyberlabs across the SGS group. Martin's 20+ years of experience spans emerging technology research & innovation, international team building, company development, and P&L management, but also hands on experience as cryptographer, firmware engineer and security architect in the semiconductor industry.
He is a regular speaker at international conferences, actively participates in industry associations, such as TIC Council, ECSO or Eurosmart. He was member of ENISA's Advisory Group and since June 2020 is member of the European Commission's Stakeholder Cybersecurity Certification Group. Martin holds a PhD-degree in IT-security and cryptography from University of Klagenfurt in Austria.
Global AI events calendar
World Summit AI
World Summit AI Americas
24-25 April 2024
Montréal, Canada
Share your content with the World Summit AI community
Got some interesting content you want to share with our community of over 220,000 AI Brains? You can send us anything from a published piece you have written online, white paper, article or interview. Submit it here