Dear World Summit AI community,
You said: "no more manels!"
We said: "never have, never will!"
You said: "all tech conferences are dominated by men"
We said: "not ours, we strive towards gender balance in all our content"
You said: "diversity and inclusion must be at the heart of AI"
We said: "our Inspired AI series actively recruits speakers to drive forwards the D&I agenda"
Join your fellow WSAI community members for Inspired AI, our series of 10 mind-blowing bite-sized, CPD accredited online events running from September to November (including World Summit AI @ Inspired AI on October 14th), bringing together the global AI community AND the women pioneering AI across industry, research and academia!
Meet THE women in AI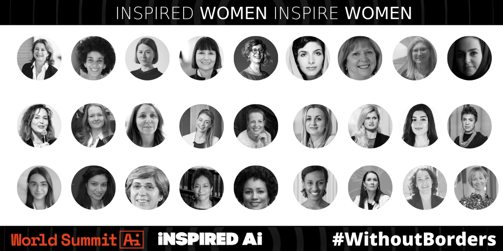 Corinne Vigreux, Co-Founder, TomTom
Timnit Gebru, Research Scientist & CoLead Ethical Artificial Intelligence, Google
Celeste Kidd, Assistant Professor of Psychology, University of California, Berkeley
Kay Firth Butterfield, Head of AI & Machine Learning,

World Economic Forum

Sasha Constanza-Chock, Research Scientist, MIT & Senior Research Fellow, Algorithmic Justice League
Anja Kaspersen, Former Head of Geopolitics and International Security, World Economic Forum
Roya Mahboob, CEO, Digital Citizen Fund
Professor Dame Wendy Hall, Regius Professor of Computer Science, Director, Web Science Institute, University of Southampton
JoAnn Stonier, Chief Data Officer, Mastercard
Deemah AlYahya, Digital Economy & Innovation Advisor and Founder of WomenSpark
Loubna Bouarfa, CEO & Founder, OKRA Technologies
Stephanie Opdam, VC, Notion
Dean L. Song Richardson, Professor of Law, University of California
Professor Francesca Rossi, AI Ethics Global Leader & Professor of Computer Science, IBM Research & University of Padova
Benji Coetzee, Director Digital - Tribe Lead, VodafoneZiggo
Marloes Pomp, Programme Officer, International Strategy Dutch Blockchain Coalition, Dutch Government
Ana Alecsandru, International Security Programme, Chatham House
Dr Ulrike Franke, Policy Fellow, European Council on Foreign Relations
Meriem Menani, Public Policy, The Economist Group
Ivana Bartoletti, Co-Founder, Women Leading in AI Network
Daiane Piva, Consultant, Tata Steel Europe
Rediet Abebe, Junior Fellow, Harvard Society of Fellows, Co-Founder, Black in AI
Jacqueline Teo, Chief Digital Officer, HGC Communications
Manuela M. Veloso Head of AI, JPMorgan Chase
Ana-Andreea Stoica, Co-organiser, MS4SG
Elissa Stromme, ED Pan Canadian AI Strategy, CIFAR
Nazareen Ebrahim, CEO, Socially Acceptable
Renée Cummings, Founder & CEO, Urban AI, LLC & East Coast Lead, Women in AI Ethics (WAIE)
Taniya Mishra, Director of AI, Affectiva
Professor Dagmar Monett Diaz, AI Software Engineering, HMW Berlin
Janet Adams, Head of Strategic Projects & Performance, TSB
Sasha Constanza-Chock, Research Scientist, MIT & Senior Research Fellow, Algorithmic Justice League
Karen Rea, Independent Moderator
Dr. Natalie R, Women in AI,

SA Ambassador
Join these inspiring women in AI and the entire global AI community at Inspired AI (Sept-Nov 2020) to tackle head-on the most burning AI issues and set the global AI agenda. inspired-minds.co.uk/inspired-ai
Team WSAI @ Inspired AI (Sarah, Vidya, Kate, Claire, Sherrie, Stella, Celine, Fiona, Rux, Saima and Eve)
YOUR GLOBAL AI EVENTS CALENDAR

Here is your Global AI Events Calendar where you can meet your fellow 54,000 InspiredMinds community members of business leaders, heads of government, policy makers, startups, investors, academics and media.
WORLD SUMMIT AI WEBINARS
INTELLIGENT HEALTH
9-10 September 2020
Online
INTELLIGENT HEALTH AI WEBINARS
INSPIRED AI SERIES
Sept – Nov 2020
Online
inspired-minds.co.uk/inspired-ai
WORLD SUMMIT AI @ INSPIRED AI
14 October 2020
Online
WORLD AI WEEK
12-16 October 2020
Amsterdam, Netherlands
INTELLIGENT HEALTH UK
2-3 February 2021
London, UK
WORLD SUMMIT AI AMERICAS
20-21 April 2021
Montreal, Canada