Dear WSAI community,
We're pleased to introduce the latest addition to the World Summit AI and InspiredMinds team. Meet Eve (Evgenia) Logunova, Country Lead for the Netherlands and Diversity & Inclusion (D&I) Ambassador.
"Diversity and inclusion is at the heart of InspiredMinds, since launching in 2016, our aim has been to democratise access to emerging technology and science by providing a platform created by diverse communities, that is accessible to all – regardless of gender, race or income. I am thrilled that Evgenia is joining us to lead this cause locally in the Netherlands, her energy and passion for equality is infectious and we look forward to working with her" says Sarah Porter, Founder of InspiredMinds.
Welcome to the team Eve! Tell us a bit about you and what your role is within the community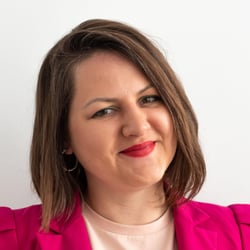 I've just joined InspiredMinds in the role of Country Lead for the Netherlands and Diversity & Inclusion (D&I) Ambassador.
It is my honor to be the central point of contact in the local market for stakeholders and partners of InspiredMinds and World Summit AI, ensuring the highest possible value of the event for the participants as well as overseeing the Diversity & Inclusion agenda.
Many people in the global AI & Tech circles know me as Women in AI Ambassador (Netherlands) and Diversity & Inclusion activist. I've been working in the Innovation field for more than 15 years supporting the AI and digital transformation at both corporates and startups. I am a big fan of adding a human voice to Data, Artificial Intelligence, Cloud, and Internet of Things, and am a strong believer in the power of equality. In addition to my role at Women in AI, I am an entrepreneur and an active member of the global startup community working closely with startup founders as a consultant and a mentor.
I am often moderating global and local events. In 2019, I was moderating the Startup Track at World Summit AI and in 2020, the CyberShark session at Intelligent Health AI. In 2019, I initiated the WaiACCELERATE program aimed to bridge the gender gap in the startup ecosystem. There are now 33 women innovators from around the globe participating in WaiACCELERATE to build their own ventures in the fields of AI, Data Science & Machine Learning.

Get in touch! If you would like to partner with InspiredMinds and join the world's leading and largest AI summit - World Summit AI, contact me at eve@inspired-minds.co.uk
With❤️
Team WSAI (Sarah, Vidya, Kate, Claire, Stella, Sherrie, Celine, Fiona, Rux, Saima and Eve)
YOUR GLOBAL AI EVENTS CALENDAR

Here is your Global AI Events Calendar where you can meet the Inspired Minds community of business leaders, heads of government, policy makers, startups, investors, academics and media.
WORLD SUMMIT AI WEBINARS
INTELLIGENT HEALTH AI WEBINARS
INTELLIGENT HEALTH
2-3 September 2020
Online
WORLD SUMMIT AI
13-14 October 2020
Amsterdam, Netherlands
WORLD AI WEEK
12-16 October 2020
Amsterdam, Netherlands
INTELLIGENT HEALTH UK
2-3 February 2021
London, UK
WORLD SUMMIT AI AMERICAS
20-21 April 2021
Montreal, Canada