Last week, we created our first-ever virtual summit - over 450 virtual meetings and 12,300 connections (and still counting) were made on our AI-powered matchmaking platform.
In 15 days only we managed to move a year long worth of preparation for World Summit AI Americas online and created the first ever WSAI TV, our on-demand version of the summit that would have taken place in Montreal last week.

Sometimes a picture speaks a thousand words👇🏼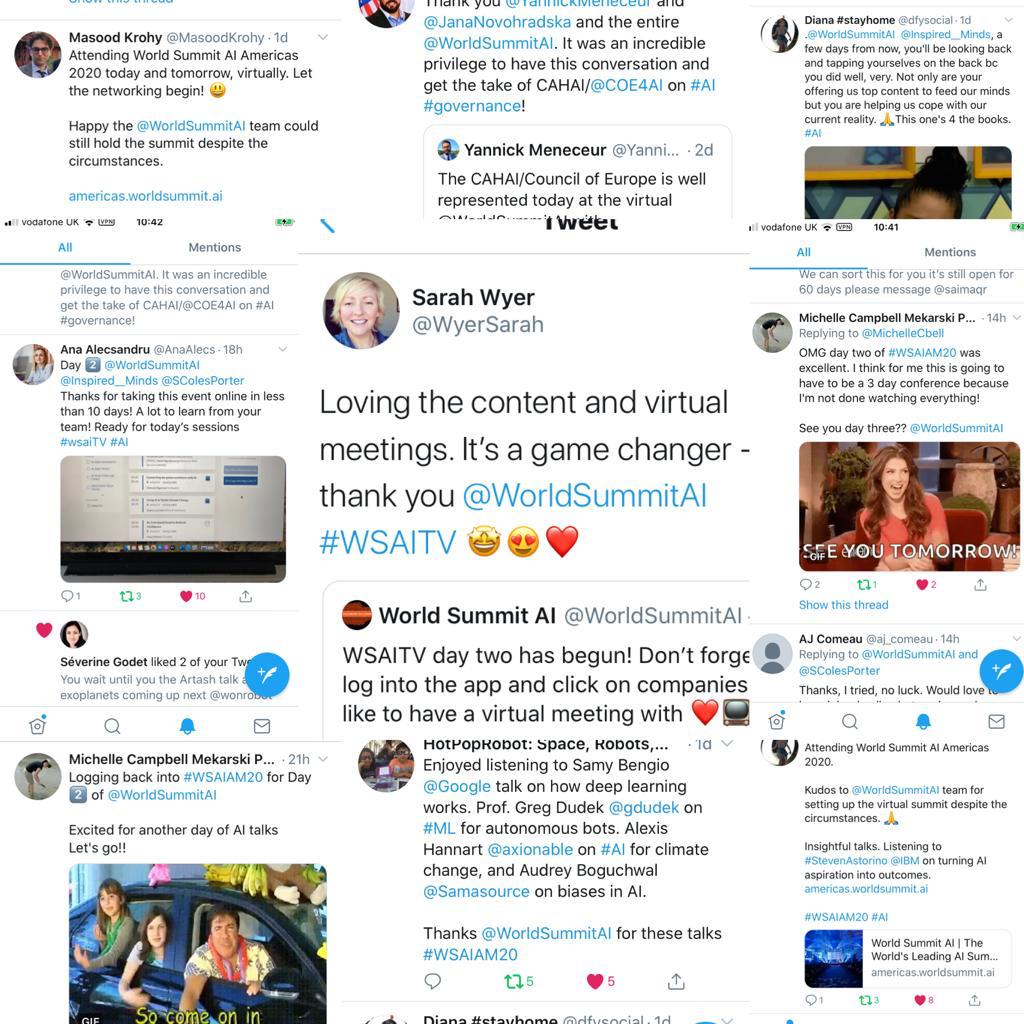 A BIG thank you to all our WSAI community members, delegates, sponsors, partners and AI brains for supporting us ❤️
We are blown away with how supportive the community has been in getting this off the ground. Despite the global situation, nothing stopped you from coming together to learn, exchange ideas, do business, network and set the global AI agenda.
New! World Summit AI webinars
We are launching a series of online webinars for the community. Stay tuned, more information coming soon😉
Get involved
Never has digital been so important. If you are interested in sponsoring, exhibiting, speaking or partnering with the World summit AI global summit series, please contact us
With❤️
Team WSAI (Sarah, Vidya, John, Caroline, Stella, Celine, Sherrie, Denise, Fiona, Rux, Saima and Andrea)
GLOBAL AI EVENTS CALENDAR

Here is your Global AI Events Calendar where you can meet the Inspired Minds community of business leaders, heads of government, policy makers, startups, investors, academics and media.
INTELLIGENT HEALTH INSPIRED
27 May 2020
Online
intelligenthealth.ai/ih-virtual
INTELLIGENT HEALTH AI
09-10 September 2020
Basel, Switzerland
WORLD SUMMIT AI
13-14 October 2020
Amsterdam, Netherlands
WORLD AI WEEK
12-16 October 2020
Amsterdam, Netherlands
INTELLIGENT HEALTH UK
2-3 February 2021
London, UK
WORLD SUMMIT AI AMERICAS
20-21 April 2021
Montreal, Canada