We spoke to Ivana Bartoletti, the Author of An Artificial Revolution on Power, Politics & AI ahead of her presentation
at
World Summit AI Amsterdam
(13-14 October 2020), the world's leading AI summit.
Ivana Bartoletti works, writes, and speaks on privacy and digital ethics and work with companies in the UK and globally. She is Chair of the Executive Committee of the Fabian Society.
She was awarded 'Woman of the Year' 2019 in the Cyber Security Awards 2019 in recognition of her growing reputation as an advocate of equality, privacy and ethics at the heart of tech and AI. She is a sought after media commentator on headline stories where the tech economy intersects with privacy and data law and politics, and has appeared on BBC News and Sky News as well as in national newspapers and publications.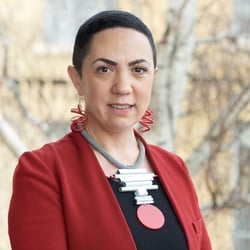 In May 2018, Ivana launched the Women Leading in AI network, an international lobby group of women advocating for responsible AI. The network's 2018 report garnered mass interest from tech leaders, international institutions and the media. Ivana
is also Co-editor of the Fintech Circle's AI Book on how AI is reshaping financial services.
So Ivana, if you could solve any global problem in the world with AI, what would it be?
Climate change
Presuming that was solved, what would your second choice be?
Covid-19
What do you see as the 3 most important things for businesses in relation to AI at the moment?
Access to data (new data infrastructures)
Clarity around legal compliance including liability
Access to talent
What do you see as the 3 most important things for humanity in relation to AI at the moment?
AI at the moment is still too focused on surveillance and computation advertising. the most important thing for AI right now is to focus on what matters, climate change and health to start with.
How do you think AI will make its biggest mark in business/on humanity/the world in the next 5 years? 10 years? 20 years?
it is up to us to decide. I think the largest impact will be in speeding up automation post covid - 19
What's the "coolest"/ most "wow-factor" thing you've seen so far in with the use of AI in the sector you work in?
In health, so much interesting innovation happening! Telehealth has been very helpful during these few months.
What's your biggest fear in relation to the application of AI?
Lack of regulation in relation to individual and collective harms (allocation, represeantional and erroneous correlation)
How do you think AI will cause human contact to change in the future?
I am concerned about the impact of AI on human knowledge.
Why did you choose to present at WSAI this year?
Because WSAI is a great event, with lots of talent from all around the globe!
Thanks for your time Ivana. We can't wait to welcome you to the WSAI stage!
With❤️
Team WSAI (Sarah, Vidya, Kate, Claire, Sherrie, Stella, Celine, Fiona, Rux, Saima and Eve)
YOUR GLOBAL AI EVENTS CALENDAR

Here is your Global AI Events Calendar where you can meet your fellow 54,000 InspiredMinds community members of business leaders, heads of government, policy makers, startups, investors, academics and media.
WORLD SUMMIT AI WEBINARS
INTELLIGENT HEALTH AI WEBINARS
INTELLIGENT HEALTH
9-10 September 2020
Online
WORLD SUMMIT AI
13-14 October 2020
Amsterdam, Netherlands
WORLD AI WEEK
12-16 October 2020
Amsterdam, Netherlands
INTELLIGENT HEALTH UK
2-3 February 2021
London, UK
WORLD SUMMIT AI AMERICAS
20-21 April 2021
Montreal, Canada