We spoke to

Loubna Bouarfa, CEO & Founder

of OKRA
ahead of her presentation (24th September 2020) at Inspired AI, the series of 10 cutting-edge and CPD Accredited business, science, tech and networking online events gathering the global AI community and hosted by world-leading AI experts #withoutborders

running from September to November 2020.
So Loubna, w

hat's the "coolest"/ most "wow-factor" thing you've seen so far in with the use of AI in the sector you work in?
One of the most rewarding elements of my work at OKRA is to see the user experience: at the beginning using AI to confirm their gut feel, and after a few months using AI systems to make decisions. Seeing the wow-factor in a client's adoption journey is priceless.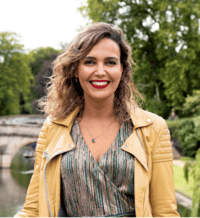 If you could solve any global problem in the world with AI, what would it be?
Good quality, personalised healthcare for everyone. I would like to see a world where our healthcare systems do not wait for people to get sick, but rather become proactive and intervene earlier, making preventive healthcare a reality. I founded OKRA Technologies to transform healthcare with AI, aiming to bring the right treatment to the right patient at speed.
What do you see as the 3 most important things for businesses in relation to AI at the moment?
Outcome driven, human empowerment and scalability.
What do you see as the 3 most important things for humanity in relation to AI at the moment?
Fairness, trust and equality.
How do you think AI will make its biggest mark in business/on humanity/the world in the next 5 years? 10 years? 20 years?
AI is already here. In 5 years AI will be trustly used. In 10 years AI will be like today's electricity. In 20 years we won't talk about AI anymore.
What's your biggest fear in relation to the application of AI?
Next to the misuse of AI against human rights, my fear is the slow adoption of AI due to human fears or incidents. Speed doesn't always kill, in the COVID-19 crisis we learnt that speed can save lives. I believe that adopting AI in healthcare at a fast pace can be simply life-saving.
How do you think AI will cause human contact to change in the future?
AI will free up our time, so that we can be more in touch with the ones we love, our families and friends. Today we spend most of our day in the office, travelling, shopping or simply waiting. AI will reshape the way we live for the better.
Who do you admire most in the world of AI in terms of their work?
I am a huge fan of Dame Stephanie (Steve) Shirley, an absolute pioneer in the field. I am deeply inspired by her story, determination and beautiful smile.
Why did you choose to present at Inspired AI this year?
It is all about people. The Inspired Minds team are my rock stars… and this event cannot be missed.
What are your personal goals from the event?
Inspire and get inspired.
What are you most excited about at Inspired AI?
Meeting the brightest minds in AI.
With❤️
Team WSAI @ Inspired AI (Sarah, Vidya, Kate, Claire, Sherrie, Stella, Celine, Fiona, Rux, Saima and Eve)
YOUR GLOBAL AI EVENTS CALENDAR

Here is your Global AI Events Calendar where you can meet your fellow 54,000 InspiredMinds community members of business leaders, heads of government, policy makers, startups, investors, academics and media.
WORLD SUMMIT AI WEBINARS
INTELLIGENT HEALTH
9-10 September 2020
Online
INTELLIGENT HEALTH AI WEBINARS
INSPIRED AI SERIES
Sept – Nov 2020
Online
inspired-minds.co.uk/inspired-ai
WORLD SUMMIT AI @ INSPIRED AI
14 October 2020
Online
WORLD AI WEEK
12-16 October 2020
Amsterdam, Netherlands
INTELLIGENT HEALTH UK
2-3 February 2021
London, UK
WORLD SUMMIT AI AMERICAS
20-21 April 2021
Montreal, Canada
mit.ai