World Summit AI, Amsterdam is only months away and if you're as engrossed in the news unfolding all over the world as we are - you'll know that Artificial Intelligence is taking the world by storm.
This is YOUR chance to immerse yourself in the heart of the AI revolution and witness firsthand exactly how AI is reshaping the world.
World Summit AI 2023 brings you a lineup of tracks that will blow your mind, redefine industries, and make you question everything you thought you knew about Artificial Intelligence.
You'll want an all access Expo+Content pass.
//an exclusive peek at the NEW tracks
//generative AI
The unprecedented global attention, investment and adoption of Generative AI is dominating every industry. Navigate the changes, business models, promise and perils through a series of world-exclusive innovation insights, applications and discussions from the technologists, users and cautionaries.
//cybersecurity
Unleash the transformative power of artificial intelligence in cybersecurity. Defend against relentless attacks, outsmart cybercriminals, and revolutionize your understanding of cybersecurity. Discover how AI reshapes the digital landscape in an era where its influence can be both beneficial and malevolent.
//AI at the edge
Get ready to unleash the full potential of connected devices and discover how AI at the edge breaks free from constraints to unlock IoT's hidden superpowers. Witness IoT devices making decisions with discarded sensor data, overcoming cost, bandwidth, and power limitations.
//& back by popular demand
//moonshot mothership
Learn how curiosity, imagination, and exponential innovation are realizing a world of abundance in a generation. The Moonshot Mothership Track features radically ambitious visionaries who are innovating at breakneck speed to deliver world-defining AI applications.
//deep dive tech talks
Hear from the world's leading tech innovators across industry and academia on fundamental breakthroughs. Genuinely ground-breaking new innovations in AI soon to into full-scale application.
//innovation in action
Real-life use cases from the top AI brains in enterprise and big tech, explaining how AI is redefining their business paradigms, why and how they are successfully implementing AI, the hurdles and challenges they face, and the resultant impact on their business.
//startup city
Editorial picks of the agile technologists who are innovating at pace and creating entirely new models for AI applications. Learn from the people who have done it before, the CEOs, founders and investors who can tell you how to navigate your startup.
//metaverse
Speculation is ablaze that the Metaverse = the future. Although, will it be what we think it is? And, will the gaming industry lead the innovation? We look at hot technologies in this nascent space such as multimodal AI, personalized music, rapid modelling for real-world applications and synthetic senses.
//the AI brains
We stage the conversations that matter, with world leaders championing AI in every way. World Summit AI will host over 200+ world-class speakers and we're delighted to give you a glimpse of the 2023 early preview.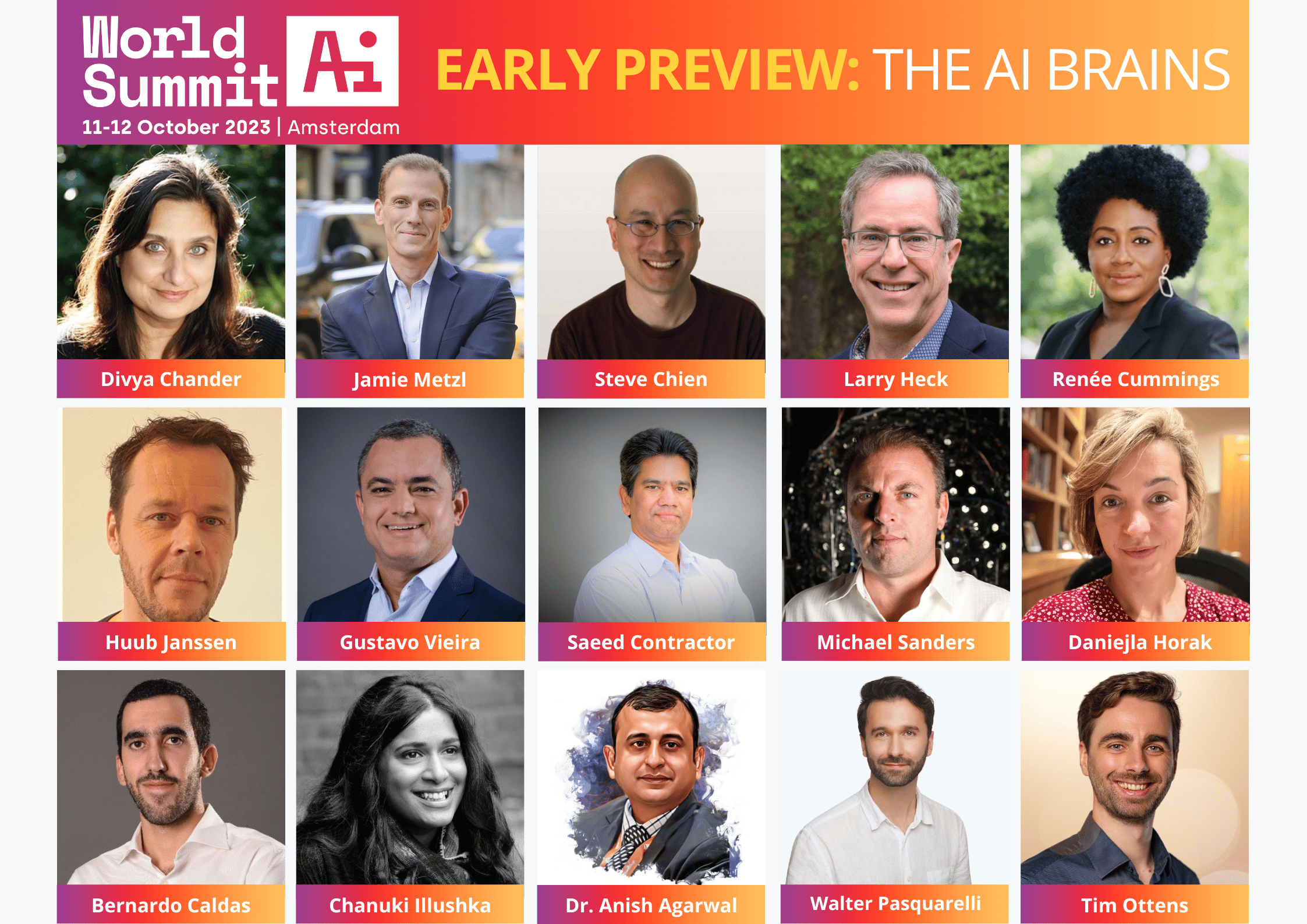 //there's more!
World Summit AI is a chance to mingle with the leading experts, innovators, and visionaries from around the globe. Imagine the electrifying conversations, the mind-expanding ideas, and the potential collaborations waiting to happen. Don't miss out on this incredible opportunity to be part of the AI revolution at the only AI summit in the world that matters.