Announcement: WORLD SUMMIT AI announces return to a physical summit this October in Amsterdam for fifth year anniversary special edition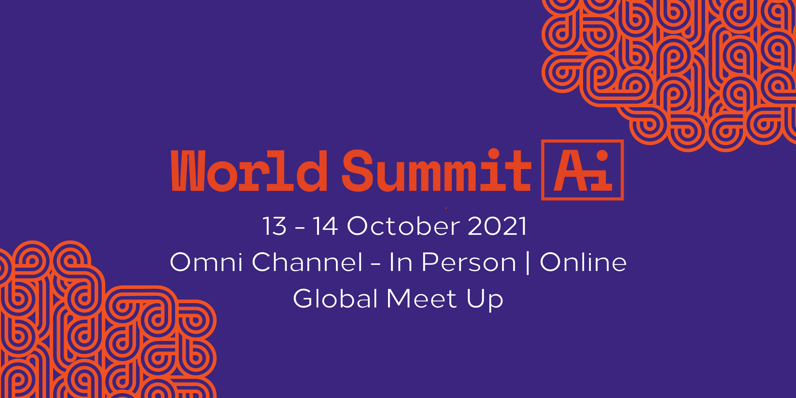 Global AI community InspiredMinds has confirmed that World Summit AI will celebrate its fifth year anniversary with a 'Super Summit' return to Amsterdam on the 12-14th October 2021.
WSAI - The world's leading summit on Artificial Intelligence will be joined by Intelligent Health - the world AI in medicine forum also by InspiredMinds, that is moving for one year only from Basel in Switzerland to Amsterdam; and by TMinus30 - the all new InspiredMinds climate impact summit.
Physical passes are currently restricted to 1000 attendees only for the exclusive in person element taking place at the historic Beurs van Berlage in central Amsterdam. In 2019 WSAI attracted 16,000 attendees throughout the week in Amsterdam and was hailed as the world leading AI summit attracting government heads and high level representatives from the World Economic Forum, United Nations and big tech companies.
The summit will also be simultaneously streamed online to it's global platform Mothership, to allow the summits renowned international audiences to join from heads of government, business, startups and big tech pioneers from around the world.
InspiredMinds has also confirmed that the fifth year anniversary summit will feature the launch of the World AI Awards (TM) celebrating the theme of AI with Impact.
To ensure the safe return of a physical summit a team of advisors has been appointed from the InspiredMinds clinical community including former WHO Dr Ian Norton, emergency medicine specialist from Respond Global, Joel Myhre - former EBOLA response expert and now Pacific Disaster response member, as well as a board of world leading clinicians and safety experts.
InspiredMinds has a community of almost 200,000 users and subscribers from 169 countries globally built up since 2017 as a result of the market leading World Summit AI, World AI Week, Intelligent Health and TMinus30 Climate summits.
Paul Thandi, InspiredMinds board commented "The InspiredMinds community are ready to meet in person to celebrate five incredible years of WSAI. Amsterdam city has robust plans in place to ensure that the return to physical meet-ups are safe, secure and realistic given the world we now face with COVID19. The WSAI plans are meticulously managed with the community at the heart of the decision - the feedback is it is time to reignite WSAI in person and we are excited to to see a physical element to the 2021 event"
Vidya Gunapala, Chief Content Officer said "InspiredMinds are renowned for our high quality productions both in person and online - the fifth year anniversary summit will focus on combining the WSAI global leadership content alongside the internationally renowned Intelligent Health AI in medical forum. It is an exciting meeting of everything that InspiredMinds has worked on over the last 5 years and we have some big 'reveals' to announce for our plans for 2021. Our focus is on how our attention is now turning to crisis response, climate related impact and the future of health care and AI in business - our global community will not be disappointed".
The summit will take place on the 12th -14th October in Amsterdam, to get involved go to www.worldsummit.ai or email hello@worldsummit.ai
Ends
Note to editors
About InspiredMinds Media Group www.inspired-minds.co.uk
With over 200,000 community members in AI and emerging technology globally Inspired Minds is the worlds first AI omnichannel of digital meet-ups, online content and the largest AI technology summits globally.
Launched in 2016 by Sarah Porter InspiredMinds aims to make emerging technology more inclusive, diverse and available to all.
Organisers of the world leading World Summit AI www.worldsummit.ai and Intelligent healthwww.intelligenthealth.ai the worls large community of clinicians in AI and medicine, InspiredMinds includes a portfolio attracting in excess of 45,000 attendees from 167 countries every year. Guided by our values, we aim to deliver excellence in every area in which we operate, with a diverse and inclusive community being our number one priority.
InspiredMinds is the leading AI and Health technology community globally with a presence in Amsterdam, Montreal and New York, the InspiredMinds Foundation and Tminus30 are not for profit initiatives that work to ensure that the development of technology is diverse, inclusive and benefits all. The groups campaigned against Trump in 2017 to overturn the travel ban that restricted the all girl Afghan Robotics team from attending the Washington DC robotics championships, and formed ADA-AI a counsel of world leaders in AI including Prof Gary Marcus, Prof Joanna Bryson, Luciano Floridi, Virginia Dignum and many more world leaders in AI.
About the Board
Sarah Porter is CEO and Founder InspiredMinds. With over 20 years experience in tech and media startups and acquisitions she is a serial entrepreneur with extensive experience of launching large scale tech summits including technology for marketing, world retail congress and she led the acquisition and geoclone of Money 2020 to Europe in 2015.
Vidya Gunapala is COO InspiredMinds and has over 18 years experience in research, editorial and market analysis in the health care and pharmaceuticals.
For enquiries please contact hello@worldsummit.ai or call Sarah on +44 7765 213 725

Inspired Minds Media Ltd,
12 Melcombe Place,
London,
Marylebone