Press release: New technology to compute and represent machine learning models and data in a consistent structure secures IP protections needed to further international export of the company's software and services.
Zetane announced today a new patent granted in the United States for technology that underlies the company's software and services to visualize and test machine learning algorithms and their processing of data. Granted by the United States Patent and Trademark Office on March 15, 2022, this patent adds to initial intellectual property protections for the innovation granted to the company by the Canadian patent office in late 2020. Having two independent organizations confirm the novelty of the invention by the company's CTO and co-founder, Patrick St-Amant, affirms Zetane's innovation prowess in artificial intelligence (AI).
A method to distil complex systems in AI into sets of basic rules
This invention defines new means to distil complex systems in AI into sets of basic rules. Rules are in the form of transforms embedded within computer processing units. The result is a streamlined computer processing of machine learning projects that use diverse datasets by converting heterogeneous data into a uniform, convertible format. Zetane implemented the technology first in its main software products for industrial applications of machine learning, the Zetane Engine and Viewer. The technology will also underlie new online testing and validation services to produce robust computer vision systems, termed Zetane Protector, slated to launch this May.
Having affirmed its status as a deep tech company with strong IP protections, Zetane will ramp up its current international sales initiatives that focus on markets beyond North America.
"The standards to obtain a patent in the United States are exceptionally high. Having passed this challenge marks a turning point in research and development in advanced mathematics that spans over a decade. This is just the start of our exciting in-house innovation projects since we have our sights set on two more patent submissions this year," said the inventor, Patrick St-Amant.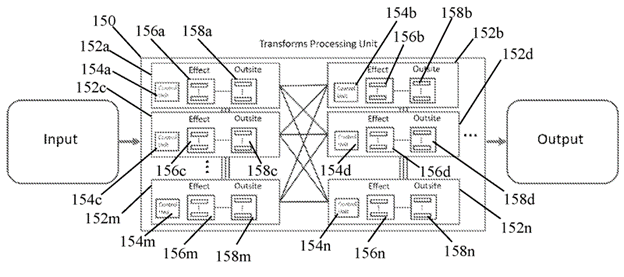 Image from the patent submission: "the processing of an input by a transform logic unit comprising a plurality of interconnected transform blocks, in accordance with an embodiment".
About Zetane
Zetane (zetane.com) provides the software and services required to de-risk and trust AI innovations used in industry through rigorous testing, validation, improved robustness and accuracy prior to deployment. Rather than work with abstract computer code, our software and services provide a detailed visual representation of AI solutions to bridge the gap between AI experts and industry experts in order to support safety tests, debugging, optimization and monitoring of AI. AI experts gain access to many easy-to-use features that save time and eliminate guesswork, and domain experts without expertise in AI can contribute and conduct needed performance and safety audits. The Zetane Viewer is an official visualization software tool for the ONNX.ai Community of the Linux Foundation, available free to download at zetane.com/gallery. Zetane Protector for producing robust computer vision solutions will launch in May 2022. Follow @ZetaneSystems for updates.
For media inquiries, contact:
Dr Jason Behrmann
Director of Marketing & Communications
Zetane Systems
info@zetane.com
Additional resources
https://patents.google.com/patent/US11275556B2/en?oq=11%2c275%2c556

https://medium.com/zetane-blog/newly-patented-method-to-make-ai-development-more-efficient-using-new-format-to-represent-data-23e6e9090b11
The World Summit AI team
Here is your global calendar for 2022 where you can meet your fellow World Summit AI community members:

World Summit AI Americas | 04-05 May 2022 | Montreal, Canada
americas.worldsummit.ai

World Summit AI | 12-13 October 2022 | Amsterdam, Netherlands
worldsummit.ai